On the occasion of Lunar New Year, a meeting has taken place between press agencies and Mr. Nguyen Khoa Diem, Politburo member and Secretary of the Communist Party of Viet Nam's Central Committee and Chairman of the Ideology and Culture Commission at the headquarter of Nhan Dan (People) Newspaper in Ha Noi.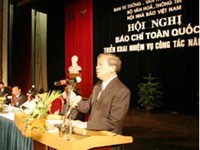 Mr. Nguyen Khoa Diem at a press conference
Mr. Nguyen Khoa Diem said that the press is not only the voice of the State, the Party and mass organizations, but also a forum which reflects the awareness and aspiration of the people. The mass media should actively contribute to the protection of socialism, communism and the Party and give more information about the achievements of 20 years of Renewal (Doi Moi).
He added that the upcoming 10th Party Congress in 2006 will decide on urgent matters of Viet Nam which require great efforts in society to cope with in the next five years.