Standing Deputy Prime Minister Nguyen Sinh Hung has asked the National Assembly to reduce this year's GDP growth target by 1.5 percent to 5 percent and called for mobilizing all resources to ward off an economic recession.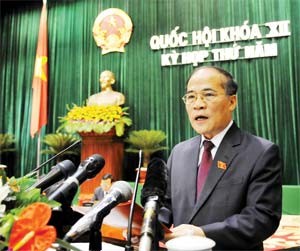 Deputy Prime Minister Nguyen Sinh Hung delivers a government report at the National Assembly on May 20 which asks for the GDP growth target to be reduced to 5 percent (Photo: SGGP)
He was speaking at the National Assembly's fifth session on May 20 where he also delivered a government report on last year's socioeconomic development and budget spending and this year's budget allocations.
The Government also sought permission from the NA to run up a budget deficit of 8 percent this year, up from the previously planned 4.82 percent.
The urgent and important tasks for the country now are to prevent a recession, maintain growth and social security, prevent inflation, and secure political and social stability, the report said.
Preventing the recession was the priority, it stressed, and for the purpose the Government has mobilized all resources to maintain growth, boost investment and consumer spending.
As a result, after declining for many months, industrial output has rebounded since February, posting a year-on-year growth of 2.1 percent in the first quarter.
In April it expanded by 5.4 percent from a year earlier.
"GDP expanded by 3.1 percent in January-March and it is likely to continue growing in the months to come," Mr Hung said.
Supported by economic stimulus measures from the Government, macroeconomic conditions have been sustained, many businesses have recovered and are recruiting again, interest rates have returned to what they were before the economic recession, and the stock exchange and real estate markets are showing signs of recovery, he said.
The government will continue using economic stimulus packages to minimize the impact of the global crisis on the national economy, improve infrastructure, help businesses improve their production and distribution capacity, and enhance the quality of human resources, he said.
It would also expand the loan subsidy and guarantee mechanisms to help businesses invest more in machinery, equipment, and technologies, he added.
To fund an economic recovery, the government sought the NA's approval to issue an additional VND20 trillion (US$1.18 billion) worth bonds.