Prime Minister Nguyen Tan Dung chaired a cabinet meeting on November 6 to discuss measures on socio-economic development in the year's two remaining months, focusing on price control.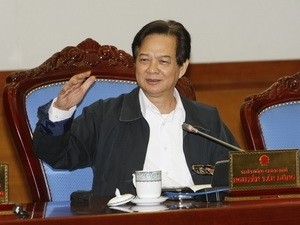 Prime Minister Nguyen Tan Dung
The Government leader asked ministries and authorities to keep a close eye on market developments so as to prevent prices of production and daily life necessities, especially medicines and milks, from surging,
He pointed out a need to continue executing the monetary policy in a flexible and cautious way, especially in handling the exchange rates and supervising the gold and foreign exchange markets, to meet targets for development and inflation control.
Dung attached importance to administrative reforms, anti-corruption combat, social security and traffic safety.
The monthly meeting also reviewed the socio-economic development in October and the first 10 months of the year.
PM Dung praised ministries and industries for fulfilling most of their targets, especially in the socio-cultural field with its competitive index ranking up by 10 places.
Most noteworthy was the success of the 17th ASEAN Summit, which has been highly valued by the international community while national security was safeguarded, said the Government leader.
Cabinet members shared a view that economy continued growing in a positive trend in the first 10 months of the year despite global economic crisis and severe natural disasters.
Industrial production increased 13.5 percent year on year to over VND72 trillion (roughly US$3.67 billion). In total, industrial production for the first ten months of the year grew 13.7 percent year on year to over VND645 trillion.
Agricultural production kept stable while services recorded a high growth rate.
Export revenues were posted at $6.25 billion in October, bringing the total revenue in the first 10 months to $57.8 billion, representing an increase of 23.3 percent year on year.
Consumer price index (CPI) in October climbed up slightly 1.05 percent month on month, lower than September's 1.31 percent, but still higher than the same period last year. The October CPI rate grew by 7.58 percent compared to December 2009.
October witnessed destructive floods in the central region, which have caused damages estimated at VND11.64 trillion.