Prices of essential goods must remain stable over the Tet holiday, Prime Minister Nguyen Tan Dung said yesterday.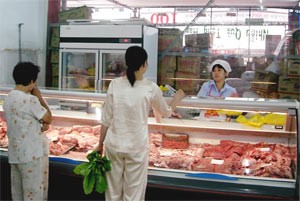 Prices of essential goods like foodstuffs will remain stable over the Tet holiday (Photo: T.C.)
After the Ministry of Planning and Investment reported that variations in prices of essential commodities may have a direct impact on production costs and daily life, PM Dung ordered ministers, provincial and municipal authorities to stabilize their cost.
 
Commodities considered to be essential include electricity, oil and gasoline, cement, steel, agricultural products and foodstuffs.
 
Historically, beginning in late December and lasting into the Lunar New Year, the price of some foodstuffs has been known to increase due to high consumption rates during holiday periods and the fact that supplies are limited due to disease and hailstorms.
 
PM Dung thus ordered the Ministry of Trade to provide guidance to relevant sectors in order to prevent dramatic price variations during this period.
 
Also, the Ministry of Transport will request that rail, air, and local transportation operations increase the number of trips and enhance service quality to facilitate the public's travel requirements during Tet.