The Ministry of Health will release new official price structures for hundreds of medical services including some that will increase tenfold.
The ministry said it has submitted a proposal to the government on new rates for 350 medical services that have remained unchanged since 1995. Among the 350 services, 220 have risen less than 2.5 times while 70 hiked from seven-10 times.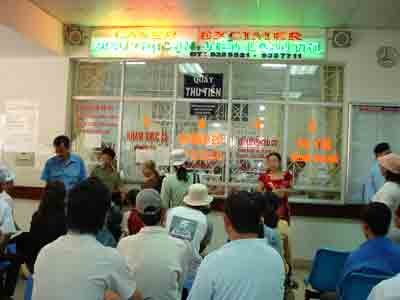 Patients wait for their turn at the Eye Hospital in Ho Chi Minh City. (Photo: Dang Quang)
The ministry explained that prices of materials, chemicals and equipment had risen many times compared to that in 1995. For instance, a pair of gloves cost VND300 in 1995 but now it is VND3,000 (tenfold) or  threads used in surgery have gone up by VND2,000 and now sell at VND50,000 (25 times)
According to the regulations in 1995, the first-class hospitals charged VND4, 000 to VND18, 000 for a bed for one day and the second-class hospitals charged VND2, 500 to VND16, 000. Hospitals now spend VND10, 000-VND17, 000 for a bed a day while electricity and water costs VND10, 000.
The ministry therefore wants to increase medical charges and under the proposal, it will cost VND100, 000 a bed a day, which will adequately cover electricity, water, medication and cleaning services.
Burn patients will pay more as bed cost after surgery will be VND150, 000 (eightfold increase)  according to the new official price rate since patients have to stay in air-conditioned intensive care units and use respirators.
Nguyen Minh Thao, deputy chief of the Vietnam Insurance Company, said that besides raising prices of services the ministry should ensure quality as well.
Pham Luong Son of Vietnam Social Insurance said lawmakers should discriminate between central and district hospitals when fixing new rates. According to a recent survey conducted by the Insurance Company, a doctor at a central hospital examines an average of 300 patients a day while their counterparts in remote districts see 200 patients a day.
Son said the effect of the medical cost increase on patients is remarkable. The insurance company spends VND20, 000 billion (US$968,000,000) annually including VND12, 000billion (60 percent) for medication. If medical charges increase 10 percent a year, the insurance fund will spend an additional VND800billion. Meanwhile, according to the ministry's suggestion, approximately 350 medical services will rise 2.5 to 10 times.
Son noted that many private hospitals provide examination and treatment to insurance holders who have not complained.  In addition, more private medical clinics are participating in examining and treating insurance patients.
Cao Van Sang, director of the city's Social Insurance Agency, said health insurance payment will increase after the new rates for medical services take effect.
Dr Nghiem Tran Dung, vice director of Vietnam's Department of Health Insurance, said treatment quality has not satisfied the demand in general, especially in district hospitals. Many doctors recommend various blood and urine tests, X-rays and ultrasounds to insurance cardholders with different ailments.
More worrisome is the fact that 416 X-ray films conducted in six hospitals in three provinces showed that 48 percent were not satisfactory due to wrong positioning and technique and 62 percent doctors read X-ray film incorrectly. Consequently, doctors come to the wrong conclusion and diagnose healthy people as ill and sick people.