Dong Duong Telecom will become Vietnam's eighth mobile network next January and the public is eagerly awaiting the bonanza it could bring in terms of promotions as the new player tries to establish itself and existing ones are forced to match it.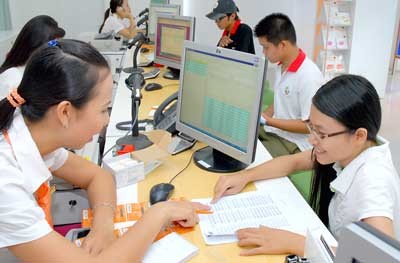 Customers register at a cell phone company in HCMC. Today, with the arrival of several new operators, call tariffs are constantly falling (Photo: SGGP)
When the seventh mobile network, Beeline, came into the market at the end of July, it attracted a lot of attention, especially its concept of zero charge.

Its subscribers can talk for free from the second to 20th minutes of a call to other Beeline numbers.
Vietnammobile and S- Phone had earlier launched similar products.
As new networks enter the market and lure away their subscribers, the established service providers have to match them with their own promotions.
From August Viettel subscribers have got three to five minutes of free calls within the network from 6am to 9am.
Viettel, MobiPhone, and VinaPhone have launched a promotion which gives prepaid subscribers and new customers a 100 per cent bonus. Earlier, the three, who hold 80 percent of the mobile phone market, also made sharp tariff cuts.
The existing service providers are on tenterhooks wondering if newcomers like Beeline, Vietnamobile, and Dong Duong Telecom will launch more promotions.
Though Dong Duong has not revealed plans for promotions, it is a given it will announce them.
Calling charges are now VND700-1,000 a minute. The Ministry of Information and Communications believes Vietnamese cell phone charges are average compared to other countries.
But it said Vietnam would have the lowest rates by 2015 if the number of service providers continues to mushroom.
Eight providers, not including VTC which is applying for a license, are said to be too many for Vietnam, especially compared to a country like China with its large population which has only six.
But for customers, especially low-income and rural ones, the more the merrier since the arrival of new mobile suppliers will inevitably mean a drop in prices.

Related article:
8th mobile network licensed, to debut in January

Telecom firms take battle to countryside