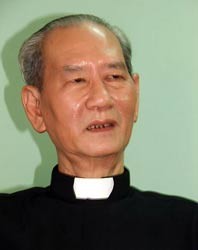 Priest Nguyen Cong Danh
Priest Nguyen Cong Danh was elected chairman of the Vietnam Committee for Catholic Solidarity at the fifth Vietnamese Catholics' Congress for Building and Protecting the Fatherland which wrapped up in Ha Noi Thursday.
Five people were elected to the standing managing committee -- priests Nguyen Cong Danh, Phan Khac Tu, Tran Minh Cam, and Nguyen Duc Hiep and former head of the Government's Committee for Religious Affairs, Lam Van Cach.
Mr. Tu was also re-elected as vice chairman and general secretary of the committee.
In a letter to Catholics nationwide and expatriate Vietnamese, the committee called on them to contribute more to the country's growth and practice charity "based on the teachings of Jesus Christ."
On the same day, standing committee members held a meeting with the Vietnam Fatherland Front Central Committee.
Huynh Dam, the front's new chairman, said the Catholic community has contributed much to the country's development.
Related article:
Catholic congress espouses harmony with wider society