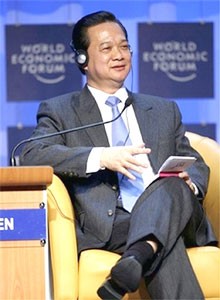 Prime Minister Nguyen Tan Dung
Prime Minister Nguyen Tan Dung responded to questions online today sent by citizens nationwide to the Government's website, the Communist Party's online newspaper and Vietnam Net.
Hundreds of questions, chosen from the more than 20,000 received by the event's organizers, were responded to between 9:00am and 11:30am this morning.
Question categories included evaluation of Viet Nam's socio-economic situation in 2006; measures for sustainable economic development from 2007 onwards; the fight against corruption and waste; housing and land policies; administrative reform; development of education, culture, and health care; development of science and technology; prevention and coping strategies for natural disasters and disease and social policy.

According to event organizers however, the bulk of the questions revolved around three topics: economic development, administrative reform and the fight against corruption.
Some questions were worded quite bluntly: "What is being done to put an end to bribery by the traffic police? And why haven't the relevant officials been brought to task for it?" or "Is it true that the government recruitment process is rife with nepotism and cronyism?"