Prime Minister Nguyen Tan Dung and his Lao counterpart Thongsing Thammavong yesterday attended the opening of a large potash mine in Laos. It will be one of Viet Nam's largest international projects.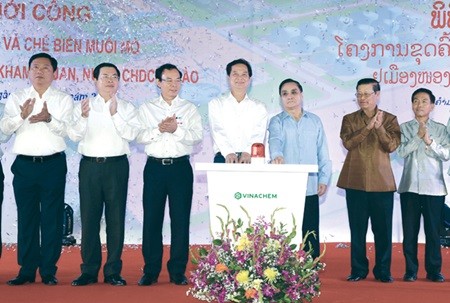 Prime Minister Nguyen Tan Dung (centre) and his Lao counterpart Thongsing Thammavong yesterday attended the opening of a potash mine in Laos. (Photo: VNA/VNS)
The ground breaking ceremony was held in Nongbok district in Khammouane province.
Invested by the Viet Nam National Chemical Group (Vinachem), the project spans 10sq.km and is designed to turn out 320,000 tonnes per year.
The project will cost a total US$522 million, of which US$105 million is from the investor, Vinachem, and the remainder from Viet Nam's commercial banks.
The project is expected to ease the two countries' reliance on imported potash fertilisers.
Addressing the ceremony, Lao PM Thammavong said that using Viet Nam's expertise, the mine would start producing in the near future, generating jobs for local workers.
The Vietnamese leader said the project was part of a master plan to develop Viet Nam's chemical industry. He asked Vinachem to meet the schedule and deliver a quality product.
The same day, the PM visited a memorial dedicated to President Ho Chi Minh in Sieng Vang Village where he lived and worked from 1929-1931.
He also met Vietnamese nationals in the village and urged them to contribute to the local socio-economic development.
School opening
Prime Minister Nguyen Tan Dung yesterday attended a ceremony to mark the opening of Dongkasen elementary school in the Lao province of Khammouane.
Funded by the Bank for Investment and Development of Viet Nam, the well-equipped school cost a total US$200,000. It has six classrooms seating 30 pupils each.
To mark the opening, the head of the Government Office, Nguyen Van Nen, presented 50 sets of computers to the province.
Later, the PM left Khammouane for Vientiane, the landlocked nation's administrative capital.
Today, he is scheduled to meet Lao leaders to discuss initiatives fostering traditional ties between the two countries.