Prime Minister Nguyen Tan Dung and a high-ranking delegation left Hanoi on July 2 for Japan to attend the 7th Mekong-Japan Summit in Tokyo from July 2-4 at the invitation of his Japanese counterpart Shinzo Abe.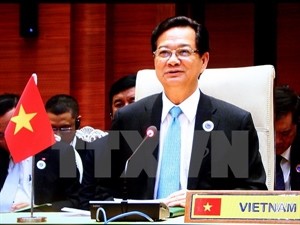 Prime Minister Nguyen Tan Dung. (Photo: VNA)
The Vietnamese leader's attendance at the event aims to foster the Mekong-Japan cooperation towards supporting socio-economic development in the Mekong Sub-region in general and in Vietnam in particular.
The summit will take place as cooperation between Japan and Mekong Sub-region (GMS) countries is reaching remarkable results, especially in implementing the 2012 Tokyo Strategy.
A number of projects related to the cooperation mechanism were deployed in Vietnam, focusing on transport infrastructure, customs risk management and people-to-people exchanges.
The upcoming summit serves as a forum to map out orientations promoting closer connections between GMS nations and Japan from 2016-2018.
The Vietnam-Japan strategic partnership has been developing and political trust between the two nations is continually strengthening.
Japan is now the leading economic partner of, the largest ODA provider to and second largest investor in Vietnam . Cooperation between Vietnam and Japan in agriculture had a number of breakthroughs while links in international and global forums are also being enhanced.
Vietnam will take the occasion to affirm its commitment to and role in the cooperation mechanism, thus reinforcing its friendship and cooperation with other GMS nations and making the Vietnam-Japan Strategic Partnership more comprehensive and effective.
At the 12th ASEAN Summit in the Philippines in 2007, Japan initiated the Japan-Mekong Partnership programme, focusing mainly on promoting sub-regional economic integration; expanding trade and investment between Japan and GMS countries; pursuing regional targets in poverty reduction, disease control and environmental protection; and realising millennium development goals.
To fuel the cooperation mechanism, Japan proposed four initiatives for 2007-2009 including increasing ODA for the Mekong region.
Japan and GMS nations have since reached a number of cooperation agreements and carried out relevant initiatives and projects in various fields in the framework of the mechanism.
At the 6th Mekong-Japan Summit in Myanmar last year, parties agreed to forge links in the GMS with an emphasis on developing economic corridors and road routes connecting the sub-region with India and South Asian nations; facilitate business activities between GMS and Japan; and promote sustainable development in the region through low-carbon growth.
The GMS groups Cambodia, China, Laos, Myanmar, Thailand and Vietnam.