Controlling inflation remains the Vietnamese Government's top priority for the rest of the year, Prime Minister Nguyen Tan Dung was quoted as telling a cabinet session Thursday in Hanoi.

Minister and Government Office head Vu Duc Dam quoted the PM as he gave a press briefing in Hanoi at the end of Thursday, the final day of the regular cabinet sitting on August 30-September 1.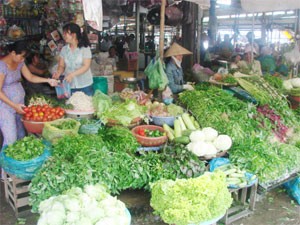 File photo shows a market in Ho Chi Minh City. Taming inflation remains the Vietnamese Government's top priority for the rest of the year, the Prime Minister said Thursday (Photo: Minh Tri)
The government would continue to tighten monetary policy, efficiently cut public spending and put US dollar-dong exchange rate and gold under control, Mr. Dam said, quoting the PM.
State Bank Governor Nguyen Van Binh was quoted as saying that a soaring global gold price had prompted to a gold shopping frenzy in the country, causing a short-term shortage.
To curb the issue, the central bank allowed the import of five tons of gold, of which 2.1 tons were bought already, according to Mr. Binh.
The governor also added that the dollar-dong exchange rate remained "relatively stable".
Some economists worried that banks would be forced to print more money and reduce interest rate as there is very much room for credit growth, leaving the inflation moving up further.
Figures from the state bank show the lending growth rate reached 12 percent. The state bank early this year set the credit growth target at below 20 percent to tame accelerating inflation.
"Room for credit expansion this year is still at a similar level in previous year," Mr. Binh said during the cabinet sitting.
"The credit growth in the first eight months was high, amounting to 70 percent of this year's target, compared to an average of 55-60 percent in previous year."
Finance Minister Vuong Dinh Hue said that the government would provide key investment projects, including cement, with guarantee for foreign loans.
The government has granted guarantee for loans worth US$1.35 million to 16 projects so far this year, according to Mr. Hue.
He also noticed that the Ministry of Finance would strive to keep the budget deficit at around 4.9 percent, the lowest rate in the last several years.
Vietnam set the GDP (gross domestic product) growth target at 6.5 percent in 2012, while this year's rate was expected to be 6 percent only.
Experts from the Ministry of Planning and Investment said the government could not high growth rates as the economy looked set to remain negative in 2012.
The export turnover is expected to increase 12 percent to around $100 billion in 2012, while trade deficit will likely to drop below 16 percent.
The country's consumer price index is expected to decline to less than 10 percent.