Prime Minister Nguyen Tan Dung's  two-day official visit to Cambodia would contribute to the boosting of Viet Nam and Cambodia relations following the principles "good neighbourliness, traditional friendship, comprehensive co-operation and long term stability"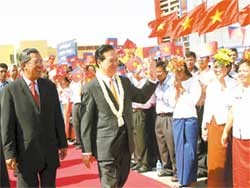 The Phnom Penh people warmly welcomePM Nguyen Tan Dung
The visit comes at the invitation of Cambodian Prime Minister Samdech Hunsen and will be followed by official visits to Laos from December 19-20 and Thailand from December 20-21, at the invitations of Lao Prime Minister Buasone Bouphavanh and Thai Prime Minister Surayud Chulanont.
He was accompanied by Deputy Prime Minister and Foreign Minister Pham Gia Khiem and Minister of Industry Hoang Trung Hai.
Viet Nam and Cambodia which have had established diplomatic relations since 1967, will be looking to focus on enhancing co-operation in security and national defence, especially along their shared borders. The two sides agreed to develop bilateral relations following the principles "good neighbourliness, traditional friendship, comprehensive co-operation and long term stability".
On Dec 18, visiting Vietnamese Prime Minister Nguyen Tan Dung and his Cambodian counterpart, Hun Sen, discussed investment in mine exploration, rubber plantations, and a hydroelectric power plant on the Se San river in northeastern Cambodia.
PM Dung told PM Hun Sen that he will encourage Vietnamese entrepreneurs to invest in the projects, Cambodian Minister of Information Khieu Kanharith told reporters.
In one-and-a-half-hour talks to boost bilateral cooperation, PM Hun Sen proposed forming an "association" among five countries -- Cambodia, Laos, Myanmar, Thailand and Vietnam - for exporting rice to the world market, Mr Khieu Kanharith said.
Trade has been on the increase between Cambodia and Vietnam. Cambodia's imports from Vietnam last year amounted to $536 million, while its exports there were worth $157 million, according to Cambodian government figures.
Vietnamese entrepreneurs have invested some $25 million in Cambodia, focusing on garment manufacturing, construction materials, the hotel industry and timber processing.
Along their borderline, Vietnam has established seven border economic zones, 43 border gates and 23 border markets to facilitate cross-border trade, the news agency said.
PM Dung's two-day visit, which began Monday morning, is his first to the kingdom since he was elected in June. The trip was aimed at "strengthening the friendship and cooperation between the two countries," Cambodian Foreign Minister Hor Namhong told reporters at Phnom Penh airport.
He then left to visit Cambodia's Independence Monument and pay his respects at a monument in honor of Vietnamese soldiers killed in battles to overthrow the genocidal Khmer Rouge regime in the late 1970s and early 1980s.
Before the discussion with Hun Sen, the Vietnamese Premier paid courtesy calls on Senate President Chea Sim, who is acting head of state, and National Assembly President Heng Samrin.
PM Dung's arrival follows last Thursday's holding of a conference in Hanoi on Vietnam-Cambodia border delimitation.
The two sides signed a border delimitation treaty in October last year as the first step toward their goal of completing the demarcation and planting of border markers by the end of 2008.
The regional neighbours have had an established joint committee on economy, culture, science and technology since 1994, and have been increasingly using the committee as a vehicle to bolster co-operation in these fields. In recent years, relations between the two sides have been developing briskly. Bilateral trade turnover between the two countries last year saw a 40 per cent year on year increase to reach US$700 million, with both sides eager to expand on that work, they have set a bilateral trade turnover target of $1 billion for this year.
The two ASEAN members have been increasingly exchanging high level visits between leaders over the last five years in particular, and along with their own bilateral co-operation, they have become key participants within ASEAN and other regional and international forums. The two sides have also been very active in endeavouring to accelerate the formation of the ASEAN Free Trade Area (AFTA) and the Chinese-ASEAN Free Trade Area (CAFTA), as well as regional development programmes such as Development Triangle Viet Nam-Laos-Cambodia and the East-West Corridor.
---