Prime Minister Nguyen Tan Dung applauded co-operation between the central banks of Viet Nam and Myanmar, which he said has contributed to developing the countries' relations.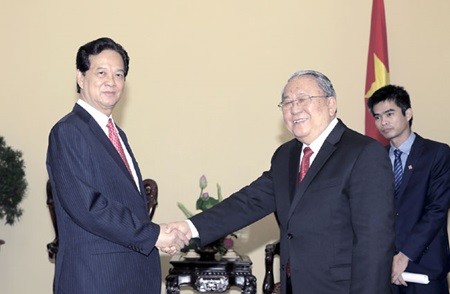 Prime Minister Nguyen Tan Dung (left) receives Kyaw Kyaw Maung, governor of the Central Bank of Myanmar, yesterday in Ha Noi. (Photo: VNA/VNS)
The PM commented on the monetary relations at a reception for Governor of the Central Bank of Myanmar Kyaw Kyaw Maung yesterday during his working visit to Viet Nam.
He highlighted recent developments in bilateral collaboration, especially in economics, trade and investment. Viet Nam is the eighth largest investor in Myanmar and trade has increased, the leader said.
The Vietnamese Government has worked to create incentives for Vietnamese businesses to operate in Myanmar, Dung affirmed.
The Myanmar central bank governor said Myanmar had made considerable efforts to promoting multi-faceted co-operation with Viet Nam, and that the affiliation between the central banks was a cornerstone of these efforts.
Myanmar would co-ordinate closely with Viet Nam to address emerging economic issues, he said.
Co-operation enhanced
The State Bank of Viet Nam (SBV) and the Central Bank of Myanmar (CBM) agreed to enhance collaboration by increasing high-level delegation visits and professional exchanges.
The Memorandum of Understanding (MoU) was reached and signed yesterday when SBV Governor Nguyen Van Binh and CBM Governor Kyaw Kyaw Maung met.
They reviewed the specifics for a swift and more effective implementation of the MoU, hoping to accelerate the escalation of Viet Nam-Myanmar relations.
Maung recognised the efforts of Vietnamese commercial banks—especially the Bank for Investment and Development of Viet Nam (BIDV)—to enter Myanmar's market as and contribute to Myanmar's development.
He said the CBM would consider granting licences for BIDV to open a branch in Myanmar.
He spoke of his admiration for Viet Nam and SBV's achievements in macro-economic stabilisation, economic development and banking restructuring.
The SBV Governor also congratulated Myanmar on its attainments in poverty reduction.
He stressed that, as a reliable partner of Myanmar for many years, Viet Nam will continue to support and co-operate with Myanmar.