Prime Minister Nguyen Tan Dung will attend the 14th ASEAN Summit in Cha-am, Phetchaburi Province, Thailand on February 28.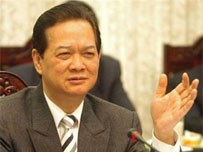 Prime Minister Nguyen Tan Dung
The 14th ASEAN Summit follows the historical adoption of the ASEAN Charter last December.
 
The theme of the 14th Summit is the "ASEAN Charter for ASEAN Peoples', and underlines a new era for ASEAN with people at the heart of regional cooperation.
 
The prime minister will attend several bilateral meetings in addition to his participation at the Summit's official sessions.
A number of important declarations and agreements are expected to be signed at the summit.