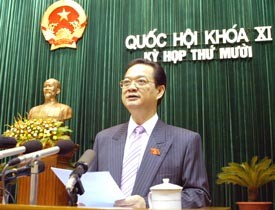 PM Nguyen Tan Dung delivers a keynote speech
The Vietnamese economy is expected to grow 8.2% this year, and the Government is further seeking to fight corruption and wastefulness, Prime Minister Nguyen Tan Dung said Tuesday.
In a keynote speech at the opening of a month-long National Assembly sitting, the PM asserted that he would bring to justice corrupt officials, particularly those in high-profile cases.
"Although the fight against corruption and wastefulness has made certain progress, the problem remains serious," he said.
 
The government will take strict measures to prevent and combat corruption and wastefulness, and focus on directing administrative reforms and boosting state management efficiency.
Regarding the economy, the country's gross domestic product is forecast to grow 8.2% this year, 0.2 percentage points higher than the target, and 8.2-8.5% next year.
 
"The GDP growth is higher than the target but has not fulfilled its potential. "The quality of growth, especially the competitiveness of the economy, has been improved, but many weaknesses remain," said the PM.
To fulfill next year's growth objective, the government submitted four main groups of solutions to the National Assembly.
As the country looks set to become a member of the World Trade Organization this November, the government will continue conducting market reforms and taking initiatives in international economic integration.


Basic Goals for 2007
GDP growth: 8.2-8.5%, equal to US$70 billion; per capita income: US$820
Economic structure
Agriculture: 19.5%; industry and construction: 42%; service: 38.5%
Export turnover: US$45.2 billion, up 17.4%, import spending: US$49.1 billion, up 15.5%.
Total investment for development: VND452 trillion, equal to 40% of GDP
Tax collection: over VND274 trillion, 24.2% of GDP and up 15.5%; State spending: VND347 trillion, up 17.7% on this year's estimate
National Assembly Sits for Final 2006 Session