"My visit to France was successful," Prime Minister Nguyen Tan Dung told the press on his return journey to Viet Nam yesterday.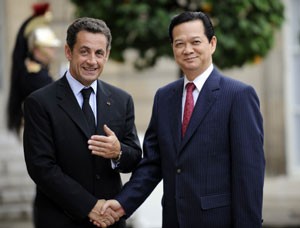 French President Nicolas Sarkozy (L) shakes hands with Vietnamese Prime Minister Nguyen Tan Dung , 0ct. 01, 2007 at the presidential Elysee Palace in Paris.
Regarding political ties, PM Dung said he reached consensus with French leaders on a course of action that will bring the two countries' relationship to a new height under the agreed motto of "traditional friendship and long-term, multi-faceted cooperation in the 21st century."
He went on to say that the French leaders he met viewed Viet Nam as an important partner on the Asian continent.
In recognition of Viet Nam's growing role and prestige in Asia, its successes in integrating into the global economy, and the possibility for the country to win a non-permanent seat in the United Nations Security Council, France has placed Viet Nam among prioritized countries in their policy towards Asia.
According to PM Dung, French President Nicolas Sarkozy lauded their meeting as historic, creating a turning point in the countries' relationship. The president also affirmed that France would always be a faithful friend to Viet Nam and would strive to develop strategic ties with the country.
Regarding economic relations, PM Dung said the two countries had agreed on a host of specific measures that aim to increase mutual trade alongside political ties and fully tap each country's potential and strength.
The French leaders pledged to consider more ODA for Viet Nam and the inclusion of Viet Nam in the list of priority countries in France 's trade promotion, PM Dung told the reporters.
The French leaders have also promised to encourage and assist French entrepreneurs to do business in Viet Nam while affirming their willingness to take part in big socio-economic development projects in the Southeast Asian country, the PM said, adding the two countries' businesspeople signed 20 agreements and contracts worth billions of US dollars during the visit.
PM Dung went on to talk about the two countries' agreement on increasing their cooperation in the fields of education and training, health care, culture, and science and technology.
Regarding this, PM Dung said the French leaders affirmed they will increase the number of scholarships offered and create favorable conditions to enable more Vietnamese undergraduate and post-graduate students to study in France .
They also recognized the need to sign an agreement relating to the establishment of a Vietnamese cultural center in France and a French cultural center in Viet Nam as soon as possible, the PM said.
On bilateral coordination in the international arena, PM Dung said the two sides agreed Viet Nam will act as a bridge for France to promote its ties with ASEAN and Asia while France will help Viet Nam strengthen its relationship with the European Union and Europe.
He went on to say that France promised to aid Viet Nam in the process of negotiating for a new cooperative agreement with the EU to replace the one drawn up in 1995, and canvass the EU for recognition of Viet Nam's market economy.
To wrap up, the PM told reporters that President Nicolas Sarkozy will make an official visit to Viet Nam in the first half of next year.