Prime Minister Nguyen Tan Dung left Hanoi on December 12 for a four-day official visit to Japan at the invitation of Japanese Prime Minister Shinzo Abe.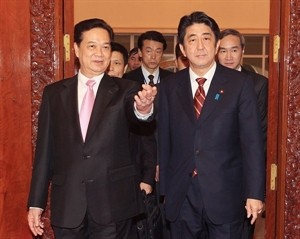 PM Nguyen Tan Dung and his Japanese counterpart Shinzo Abe during Abe's visit to Vietnam last January (Source: VNA)
The visit takes place on the occasion of the 40 th anniversary of Vietnam-Japan diplomatic ties, aiming to enhancing and deepening the strategic partnership between the two countries, especially in economics, investment, development assistance, as well as their coordination at regional and international forums.
While staying in Japan , PM Dung will attend the Commemorative Summit marking the 40 th anniversary of ASE AN-Japan dialogue relations (1973-2013).
Japan is an ASEAN's great partner that has supported the ten-member group in building the ASEAN Community and narrowing the development gap while prioritising cooperation with the Greater Mekong Sub-region Cambodia-Laos-Vietnam and the East-West Economic Corridor.
The PM will also join the fifth Mekong-Japan Summit, through which Vietnam wants to make more pragmatic contributions to improving the efficiency of cooperative mechanism between the two sides in the time ahead.