Prime Minister Nguyen Tan Dung, his wife, and a delegation of the Vietnamese Government arrived in the Abu Dhabi International Airport at 13:00 on February 15 (local time), beginning a three-day official visit to the United Arab Emirates (UAE).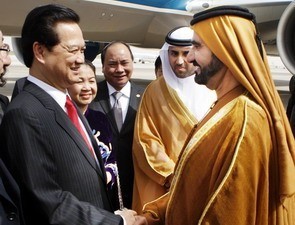 Prime Minister Nguyen Tan Dung (L), UAE Vice President and Prime Minister, Mohammed Bin Rashid Al-Maktoum (R)
This is the first official visit to the UAE of a Vietnamese Prime Minister since 1993 when the two countries established their diplomatic ties. The visit is made at the invitation of the UAE Vice President and Prime Minister, Mohammed Bin Rashid Al-Maktoum.
 
While visiting the Vietnamese Embassy in the UAE after a solemn welcome ceremony in the Abu Dhabi Airport, PM Dung highly valued the embassy's efforts in boosting bilateral ties, especially in economics, trade and investment, over the past year.
The PM said that during this visit, the two sides will sign agreements on cooperation between the two countries' Foreign Ministries and Chambers of Commerce and Industry, labor cooperation and the establishment of a governmental joint committee.
An agreement on investment protection and double taxation avoidance will also be inked, opening a new opportunity for the two countries to strengthen cooperation, he added.
The Vietnamese government leader stressed that while implementing a foreign policy of independence and self-reliance, Vietnam attaches importance to developing ties with Arab and Gulf countries which have a great potential of oil and finance.
"Therefore, the Embassy must serve as an effective bridge to boost cooperation between the two nations and protect the legitimate interests for 15,000 Vietnamese guest workers in the country," Dung said.
On the same day, PM Dung received representatives from the International Petrol Investment Corporation (IPIC) and Tamouh Investment Group. The UAE's two leading economic groups affirmed that they would promote investment in Vietnam, especially in petrochemicals, tourism and real estate.