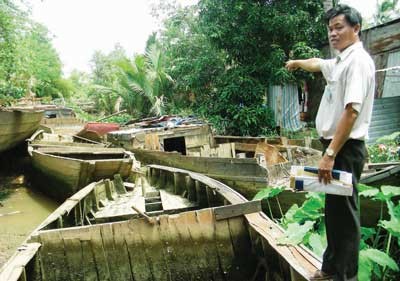 An inspector points to sand dredging boats seized in HCMC's District 9. (Photo: SGGP)
Following orders from the Prime Minister, the Ho Chi Minh City People's Committee has instructed agencies to begin monitoring the city's rivers for illegal sand dredging.
The Department of Natural Resources and Environment, Department of Construction, and other agencies have been directed to hand down heavy penalties to those caught removing and shipping sand.
Sai Gon Giai Phong newspaper has reported on illicit sand dredging activities in the past which have lead to serious land erosion across the country. In recent years the practice has increased, endangering those who live along rivers.
Around 100 hectares of land are destroyed every year by landslides in HCM City caused by sand dredging. Many more residential areas, rice fields and roads disappear yearly because of the practice.
In the Mekong Delta city of Can Tho, seven barges and vessels were found October 15 unlawfully transporting sand from the Hau River.
To date, inspectors have penalized 33 ships found transporting sand illegally on the Hau River while the Maritime Police of Can Tho have seized 10 boats and punished offenders a total of VND200 million.
Related articles:
Resettlement projects remain on paper
Lack of funds slow landslide protection
Officials struggle to halt illegal sand dredging