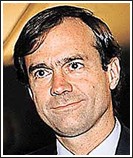 The Chilean Foreign Minister Ignacio Walker Prieto
Viet Nam appreciates Chile's role and wants to further promote multi-lateral cooperation between the two countries, said Prime Minister Phan Van Khai while receiving the Chilean Foreign Minister, Ignacio Walker Prieto, in Ha Noi on Jan. 23.
PM Khai spoke highly of Minister Walker's first visit to Viet Nam and expressed his satisfaction with the rapid and positive development of the bilateral relations between the two countries.
The Vietnamese leader thanked the Government and people of Chile for their effective and practical support for Viet Nam, especially the early conclusion of bilateral negotiations on Viet Nam's accession to the World Trade Organization (WTO) and their assistance to Viet Nam in organizing the APEC Summit in 2006.
For his part, Minister Walker affirmed that boosting friendship and all-round cooperation with Viet Nam is an important part in Chile's Asia-Pacific-oriented policy.
The Chilean Foreign Minister expressed his admiration for the Vietnamese people's heroic struggle for independence and freedom as well as their achievements during the current national "Doi Moi" (reform) process, industrialization, modernization and international economic integration.
He also conveyed greetings from Chilean President R. Lagos and other leaders to PM Khai and other Vietnamese leaders.
Foreign Minister Nguyen Dy Nien on the same day held talks with his Chilean peer, Ignacio Walker Prieto, before signing a declaration of intention on Viet Nam-Chile cultural cooperation.
Also, an accord on tourism cooperation was signed by the director of Vietnam National Tourism Administration Vo Thi Thang and Chilean Ambassador to Viet Nam Fernando Ayala in the presence of the two ministers.