Prime Minister Nguyen Tan Dung has praised the role of Vietnam-Japan special ambassador Sugi Ryotaro in boosting the bilateral relations, particularly the part played by Ryotaro in recent activities to mark the 35th anniversary of the two countries' diplomatic ties.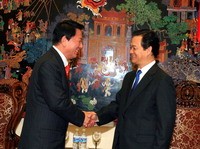 Prime Minister Nguyen Tan Dung (R) greets Vietnam-Japan special ambassador Sugi Ryotaro in Hanoi Wednesday
Receiving the special ambassador in Hanoi on Nov. 5, PM Dung said he supported Ryotaro's initiative regarding the organization of fine art and craft fairs in both Vietnam and Japan, and the cooperation between Vietnam and Japan in the field of cinematography.
The Vietnamese PM said he hoped that the Vietnam-Japan special ambassador would continue contributing to the strengthening of bilateral ties, particularly with the early signing of a Vietnamese-Japanese economic cooperation agreement, and the acceleration of three large-scale Japanese-funded projects involving the North-South highway and railroad, and the Hoa Lac hi-tech park.
The special ambassador proposed marking Nov. 3 as the day for Vietnamese-Japanese cinema exchange every year.
On the same day, while meeting with Deputy PM and Foreign Minister Pham Gia Khiem, the special ambassador committed to contributing to the development of the friendship and cooperation between Vietnam and Japan and to continue working towards a strategic partnership between the two countries.
He handed over to the Vietnamese leaders a message of condolences from Prime Minister Taro Aso and Foreign Minister Nakasone Hirofumi over losses caused by recent flooding in northern and central Vietnam.