Prime Minister Nguyen Xuan Phuc has required the State Bank of Vietnam to instruct commercial banks to provide a preferential credit package worth VND50-60 trillion ($2.22-2.66 billion) for businesses to develop hi-tech and clean agricultural products.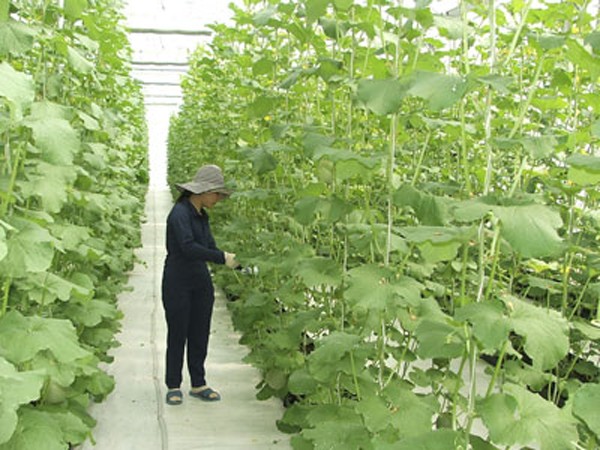 A corner of the HCMC Hi-Tech Agro Park (Photo: SGGP)
In recently issued conclusion on hi-tech agriculture, Mr. Phuc required that the program should be joined by commercial banks with the major one being the Bank for Agriculture and Rural Development of Vietnam.
Besides mortgages of properties, the banks should permit mortgages of equipment, machines and estates built on the land of hi-tech agriculture projects.
The Ministry of Finance has been asked to study and submit to the Prime Minister projects on hi-tech agro development fund and agricultural insurance.
According to the conclusion, the Government will improve regulations and policies to facilitate investment in hi-tech agro parks in all localities in the country.
It will not be obligatory for investors to suit the overall plan of hi-tech agro zones and regions by 2020 with visions till 2030 which the PM has approved in a decision made in 2015.
Basing on their assigned functions and missions, ministries has been urged to better regulations and policies and clear difficulties in the field, the PM asked.
Of them, the Ministry of Agriculture and Rural Development will supplement and improve the hi-tech agro plan towards better effectiveness and sustainable development counting hi-tech agro complexes.
Relevant ministries should report to the Government assistance policies for these complexes, build norms to determine hi-tech projects and programs and list high technologies applied in agriculture to create a basis for implementing the policies and other incentives.
 
He prompted them to estimate hi-tech agro development model in the Central Highlands province of Lam Dong and learn from experiences to soon expand the model in other provinces and cities.
The Ministry of Natural Resources and Environment should submit to the Government solutions establishing a land fund bank and land use right market and enabling capital contribution with the form of land use right values.