The final plan on the upgrade and expansion of the Dung Quat oil refinery will be submitted to the Prime Minister for review and approval early next month.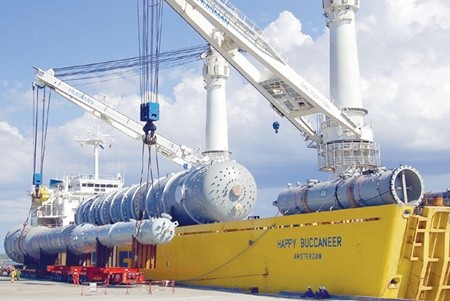 Oil is shipped out after being refined at the Dung Quat Oil Refinery Plant in the central province of Quang Ngai. A plan to upgrade the plant will be submitted to the Prime Minister next month. — VNA/VNS Photo Nguyen Dang Lam
News portal VnExpress quoted Nguyen Hoai Giang, Binh Son Refining and Petrochemical Company (BSR) Chairman, as saying that expansion of the refinery would soon be taking place, following completion of overall maintenance work on and resumption of operations of the refinery in the middle of this month.
BSR, which operates the Dung Quat refinery in the central province of Quang Ngai, has so far completed its own feasiblility study on the proposed expansion, which it estimated to be worth around US$2 billion.
Giang also revealed that Russia's Gazprom Neft, which was planning to buy 49 per cent of BSR's shares and to invest in the Dung Quat refinery expansion, has also finalised its own proposal for the expansion, which it estimated to be worth $1.5 billion to $3 billion.
The expansion is expected to raise the refinery's annual output from the current 6.5 million tonnes to 10 million tones, thereby meeting 50 per cent of the country's demand for refined petroleum products. Gazprom Neft, under the Gazprom Group, is currently one of the leading oil companies in Russia. The group owns more than 70 permits for oil production in Russia with an annual output of 60 million tonnes, as well as five refineries with an annual capacity of 40 million tonnes.
"We will select the appropriate and optimal processing technology to use and the crude oil sources to chase in order to ensure that the refinery is run in the most durable, stable and effective way possible," Giang said.
Since launching operations in 2009, the Dung Quat refinery, the first of its kind in Viet Nam, has produced roughly 30 million tonnes of products, raking in VND580 trillion ($27.23 billion) in revenue and contributing VND93 trillion ($4.37 billion) to the State budget.
In 2013 alone, it produced 6.6 million tonnes, or 17 per cent more than its target, and earned more than VND154 trillion ($7.3 billion) in revenue and VND2.9 trillion ($138 million) in profit.