The Prime Minister has urged the Ministry of Finance and relevant State agencies to exempt organizations and individuals investing in housing development from land use fees, and to cut taxes on them.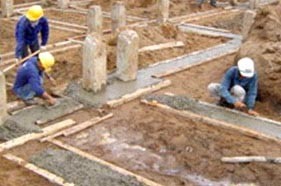 Workers build houses in Ho Chi Minh City. The Government has made a fresh bid to support the housing policy.
PM Nguyen Tan Dung issued an instruction Tuesday about the new housing policy for the execution of the Housing Law, in a fresh move to support housing development nationwide.
He urged the ministry to issue regulations for the policy, or propose other authorized State agencies to issue rules beyond the ministry's authority.
The Government leader assigned the State Bank of Viet Nam to iron out proper medium-term and long-term interest rates to support organizations and individuals in investing in housing development.
The People's Committees of provinces and centrally-governed cities are required to properly allocate land to housing projects in their localities. An immediate duty is to set up plans to mobilize capital for housing projects in 2007.