Prime Minister Nguyen Tan Dung left Budapest on Sept. 19, concluding his three-day official visit to Hungary at the invitation of his Hungarian counterpart, Bajnai Gordon.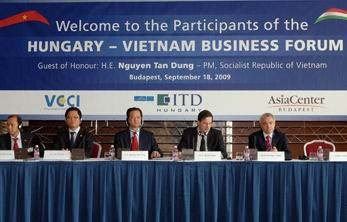 PM Nguyen Tan Dung (C) takes part in the Hungary-Vietnam Business Forum in Budapest on Sep. 18, 2009
Earlier, PM Dung laid wreaths at the monument to Hungarian heroes, met with the Vietnamese embassy's staff and representatives of the Vietnamese community, and received leaders of the Hungary-Vietnam Friendship.
Talking with the embassy's staff and overseas Vietnamese in Hungary, the PM said the Party and State always appreciate contributions by Vietnamese communities abroad, considering them an integral part of the nation.
While praising the local Vietnamese community's unity, stable business and observance of the resident country's law, PM Dung urged them to contribute further to the homeland, saying that each of them must act as a "messenger" of friendship, economic cooperation and culture.
At his reception for leaders of the Hungary-Vietnam Friendship Association, the PM spoke highly of its role and practical activities, which have helped to strengthen and develop the traditional friendship and multifaceted cooperation between the two countries.
He stressed that alongside with state diplomatic activities such as high-level visits and meetings, Vietnam and Hungary need to promote people-to-people diplomacy by tightening relations between political and mass organisations, especially the relationship between the two nations' friendship associations.
The PM also spared his time to attend a Vietnam-Hungary Business Forum, where he hailed remarkable progress in bilateral economic and trade ties in the recent years.
Vietnam and Hungary had already signed many important deals, particularly agreements covering economic cooperation, investment encouragement and protection, double taxation avoidance, scientific-technological cooperation, and agricultural cooperation.
Hungary considers Vietnam a prioritised partner in its policy of development cooperation and raised its committed official development assistance (ODA) for Vietnam to US$49.5 million this year.
Two-way trade reached US$110 million last year, up 25 percent from 2007. Hungary currently has seven projects in Vietnam with a combined registered capital of US$42 million.
PM Dung, however, noted that the results have yet to be commensurate with the good political ties, potentials and aspirations of the governments and people of Vietnam and Hungary .
On this spirit, the government leader called upon Hungarian companies to expand their investment and business activities in Vietnam , and pledged to create favourable conditions for them to successfully invest in the country