HA NOI (VNS)— Private hospitals are facing huge difficulties in getting patients. They claim they could help reduce overcrowding at State-owned hospitals if they had Government co-operation, a spokesperson for the Viet Nam Private Hospitals Association has said.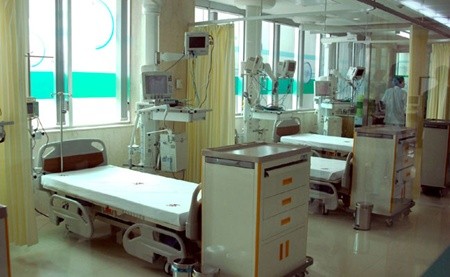 The HCM City-based Vu Anh International Hospital's CPR Department, equipped with advanced medical equipment. While huge investments have been made, private hospitals have failed to attract patients. — VNA/VNS Photo The Anh
At a conference on private hospitals on Tuesday, Nguyen Van De, chairman of the association, said that huge investments had been made on private hospitals in terms of size, infrastructure and medical equipment.
However, many were still struggling to attract patients.
Figures from the Ministry of Health show that there are about 170 private hospitals nation-wide with a total of about 45,000 beds.
Some had 500 beds or more, such as Vinmec International Hospital, Hoan My Hospital and Hop Luc General Hospital in Ha Noi. However, the association claims that, at most, only 60 per cent of beds are used.
De said an association survey of 170 private hospitals showed that many were losing money.
Some are even in the verge of bankcruptcy.
The reason, according to De, is the gap between private and State-owned models.
He cited patient transfers as an example. Patients at State hospitals are always moved to other State-owned hospitals instead of private ones, even if there are plenty of private vacant beds.
De said the availability of qualified health staff was another problem. Most private hospitals had to hire retired doctors or employ doctors and specialists from State hospitals part time.
This was not conducive to private hospitals conducting complicated operations, he said.
Vu The Hung, director of Trang An Hospital, said private hospitals were also in need of good doctors and health staff. However, many refused to do join because they did not want to give up safe positions and sign private contracts.
According to the association, private hospitals should be given more supports such as tax breaks, special land deals and human resources to develop sustainably.