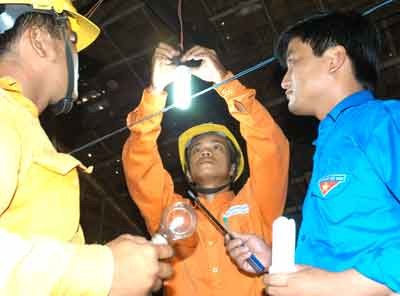 Employees of EVN install compact fluorescent lamps for poor households  in Vinh Long (Photo: SGGP)
A program to replace one million incandescent lamps with compact fluorescent lamps, also known as compact fluorescent light bulbs, for the poor in the southern provinces was launched by the Electricity of Viet Nam (EVN) on July 30.
Employees of the electricity company began the program by replacing the old bulbs for the poor households in the Mekong delta province of Vinh Long.
Each household will be given two 18-watt new electricity-saving bulbs. About 800,000 households would benefit from the program and the electricity company will spend VND31.1 billion.
The replacement is expected to save around 38.4 million kWh in one year. These new bulbs can be used in five years or they would save 192 million kWh, it is equal to VND168.5 billion.