The freezing cold weather in the northern and central region has led to the death of ten people.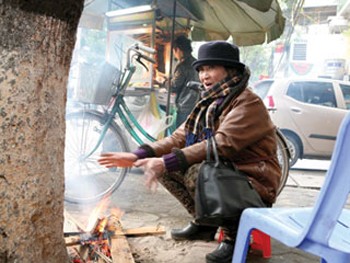 Several people using charcoal fires to keep warm are suffering from burns (Photo: Thanh Nien)
The Medical Services Administration admitted to overcrowding of hospitals in Hanoi and several other provinces with most patients being the elderly or children.
The elderly have been hospitalized due to cardiovascular, blood pressure and arthritic problems while the children are suffering from respiratory diseases, hives and diarrhea.
Associate Professor and Doctor Nguyen Ngoc Tuan, chairman of the children's ward of the National Institute of Burns was distressed that despite warnings by medical authorities over the last week, the institute is still receiving children burnt by charcoal fires that people are burning to keep warm.
In related news, Hoang Kim Giao, head of the Livestock Production Department claimed yesterday that nearly 23,000 cattle have frozen to death in the northern and central regions. Lang Son Province is the worst hit with over 4,000 cattle dead, followed by Cao Bang Province with over 3,300 dead cattle.
The National Hydro Meteorological Forecasting Center stated that the cold weather has even affected some southern coastal areas on Friday.
Today's temperature in the southern central and Central Highlands is expected to drop further and the northern region is expected to be hit by another cold spell by January 24.

Related articles:
More cattle die in cold weather
Severe cold weather to prolong until Tet
Cold spell continues plaguing central, northern residents
Over 9,200 cattle die from northern cold spell
Northern residents struggle for their livelihood in icy weather
Cold weather killing cattle