Peach flower growers in Hanoi are on edge as the persistent cold wave threatens to destroy their flower crop before the Tet holiday season.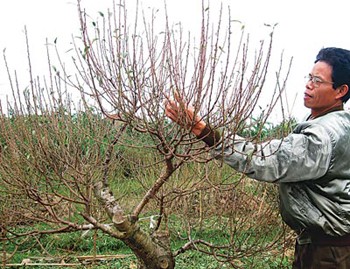 Cold weather conditions fatal for peach flower growers in Hanoi (Photo: SGGP)
The normal yearly harvest of peach flowers which sells during Tet is showing signs of fading due to the cold and unseasonal rains in the village of La Ca in Ha Dong District.
Local grower Nguyen Thi Dung feared that if the cold weather remained unabated, the peach flowers would delay blossoming to much after Tet, which would only mean a huge revenue loss for every household.
Another grower Duong Duc Loi, in the Nhat Tan Village of Tay Ho District, said he had already accepted an advance payment of VND10 million (US$500) for each of his 200 peach trees. He was now worried that buyers would penalize him if the peach buds were unable to blossom by Tet.
In other precincts like Tu Liem and Me Linh Districts where farmers are growing roses, daisies and gerbera the situation is equally worrisome.
Saving flowers
Hundreds of households in flower growing villages like Dai Mo, La Ca and Nhat Tan were seen yesterday morning make efforts in trying to coax peach flowers to blossom at the right time.
Nguyen Van Tuy, owner of 150 peach trees in Dai Mo Village of Tu Liem District said that each family had mobilized water pumping machines and was dredging drains to water the roots of each peach tree.
Many were even watering the peach flower plants with nitrogenous fertilizer mixed in warm water in the hope of making the buds flower at the right time. According to Tuy, people there had never before watered the peach flower trees like this.
On the nearby gerbera fields, Nguyen Trung Huong has turned on electric bulbs to keep the plants warm at night when the temperature drops to a maximum.
In the Tay Tuu flower village in the same district, besides warming the plants with thousands of electric bulbs, growers are also covering the flowers with nylon cloth to protect the plants from frost and chilly winds.
Even if farmers' succeed in their efforts to save most of the flowers for Tet, only 50-60 percent are expected to blossom at the right time. As a result, the flower prices are expected to increase by 10-15 percent.
In related news, Nguyen Quoc Cuong, vice chairman of the district People's Committee claimed that temperatures in the central province of Thua Thien-Hue have fallen to their lowest level since 15 years killing at least 146 cattle in A Luoi District.
The biting cold and chilly winds have sent many inhabitants here to hospitals for treatment of blood pressure, cough, cold and digestive ailments.
Dinh Quang Tuan, head of the pediatric ward of the Hue General Hospital said nearly 200 children below six year of age have already been treated at the ward for cold weather-related ailments.


In the latest forecast yesterday, the National Hydro Meteorological Forecasting Center said that extreme cold weather conditions would prevail until at least January 25 as three new cold wind spells are expected to move towards northern Vietnam.

The first spell will slam the north sometime tomorrow, putting the region back into icy conditions once again.

The other two spells are forecast to hit the region on 17-18 January and 20-21 January respectively.

According to Le Thanh Hai, the center's deputy director, this extreme cold wave might even prolong further.