A prolonged hot spell in the Central region is threatening summer-autumn rice crops, with thousands of hectares of rice vulnerable to high temperatures, which have been reaching between 36 to 39 degrees Celsius during last three weeks.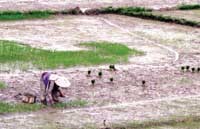 Thousands of hectares of rice are threatened by the prolonged hot spell in Central region.
The heatwave has created a drought, destroying nearly 7,700 hectares in Ha Tinh Province. All newly-planted crops will die if rains do not fall in the coming days.
Out of 9,900 hectares of summer-autumn paddy and early rice crop in Nghe An Province, which are suffering from various levels of drought, 6,000 have suffered serious drought and are at high risk of being destroyed.
A serious drought has also been seen in Quang Binh Province, with around 1,000 hectares of rice affected.
Meanwhile, water levels in reservoirs around the provinces of Nghe An, Ha Tinh, Quang Binh have fallen by ten percent compared to last year.
In response, the provinces' People's Committees are using all measures to prevent drought and rescue rice crops, and residents are using all possible reservoirs to water to their rice fields.

If the searing heat continues, local areas must prepare enough pumps to maintain agricultural production, and try to conserve water supplies.

It is also important to reduce agricultural areas so that at least some crops can be salvaged and upgrade irrigation systems to ensure that water can be preserved when it does rain, said the Ministry of Agriculture and Rural Development (MARD).
The Cultivation Department's deputy director, Pham Van Du, said in order to help farmers cope with drought, MARD would provide financial aid and pumps to bring more water to rice fields.
The ministry will also take other measures, such as dredging and upgrading rivers and canals and build more irrigation works to cope with future drought, he said.
Meanwhile many mountain provinces in the north have been ravaged by heavy rain and floods, which have caused thousands of hectares of crops to be swept away, destroying numerous houses and killing scores of people.