Mr. Le Quoc Hung, former director of the city's Internal Affairs Department, has been appointed Consul General of the Vietnamese Consulate in San Francisco. A Sai Gon Giai Phong reporter talked with him about some matters of public concern.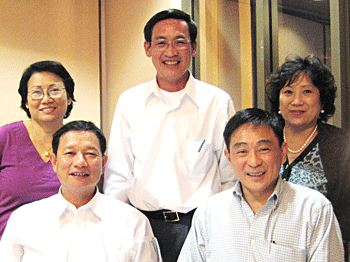 Mr. Hung (sits, 1, L) is at a gather with sucessful businesspersons in San Francisco
Mr. Hung said that he will concentrate on community work and protect the legitimate interests of Vietnamese residing in the United States and will provide useful information to the 700,000 Vietnamese-Americans here.
In addition, the consulate will try its best to create favorable conditions for the Vietnamese community in California to contribute to the country's development.
Another duty of the consul is to promote cooperation between America and Viet Nam in general and California and Viet Nam in particular. California is one of the most prosperous states the United States and the world's eighth largest economy as well. The state has developed a great deal of information technology, telecommunications, aviation, biology, education-training, health care, entertainment technology and aquatic industry.
Most Vietnamese-Americans maintain their traditions and customs and encourage their children to speak Vietnamese in the family. Some free language centers teach Vietnamese in California and in other states.
What worries him is that California residents don't understand the Vietnamese government's policies or recent developments in the country. He expects various broadcasts and articles to bring better understanding of the fatherland to people here.
Mr. Hung applauded efforts to stage cultural activities, but these performances take place only on special occasions like Tet. They do not meet the enormous demands for entertainment related to the fatherland.
The government should establish a fund for overseas cultural activities which can help Vietnamese in foreign countries come to a better understanding of the country.
Mr Le Quoc Hung promised again to promote cooperation between two nations, especially between San Francisco and Ho Chi Minh City since he has a deep understanding of the city.