While the real estate market is facing a slump and construction companies are on the verge of bankruptcy, the property market for dead souls seems to be flourishing in the central city of Da Nang.
Of late people are flocking to the Hoa Son Cemetery in Hoa Son Commune of Hoa Vang District to buy plots of land in the graveyard.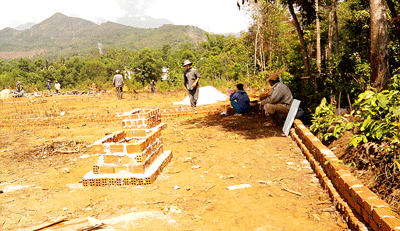 Fake graves are built on land and later the same plot is sold to people in genuine need, for a marginal profit (Photo: SGGP)
A property broker tried to cash in on two small land plots of 83   square meters at VND550,000 per square meter, saying that other plots of land had already sold out, and if anyone wanted to buy they should rush to make a down payment or else there would be no more land left later.
However, the seller of the plot would only be able to write out a transfer deed for property rights of the land plots to the buyer as the land was actually orchard land.
The broker even offered to sell land plots on two hectares that the People's Committee of Da Nang City had allocated for a cemetery for the Vietnam Association of Fellow Countrymen from the northern province of Nam Dinh in 2010.
There are more than 100,000 graves in the Hoa Son Cemetery that covers an area of more than 200 square hectares, while Hoa Ninh Cemetery, eight kilometers away has over 10,000 graves but no more available empty plots.
Phung Quyt, in charge of Da Nang Cemetery, said land prices in Hoa Son and Hoa Ninh Cemetery have increased due to shortage of plots. As per a schedule, about 37,000 graves will be moved to Hoa Son and Hoa Ninh Cemeteries later this year.
In addition, according to new regulations, a grave must be limited to 1.3x3 meters only. Graves will not be allowed to be built higher than 1.5 meters either.
However, many people cannot decide the direction of the grave which plays a very important role in many Vietnamese people's minds, said Quyt.
Most wealthy people wish to construct a large grave and choose the direction of the grave just because of religious beliefs. Hence they want large plots so they can have their choice of direction. This has led to costs of large land plot sizes in the cemetery to go up.
Tran Kim Dinh, deputy head of the People's Committee in Hoa Son Commune, said that it is very difficult to unearth this land sale racket in the cemeteries as deals takes place surreptitiously and most people sell off plots by just writing a property rights transfer paper, which is difficult to detect as no one has a record of it other than the buyer or seller.