The proportion of residents supplied with clean water is 45 percent only, a representative of the Ministry of Agricultural and Rural Development said on November 8.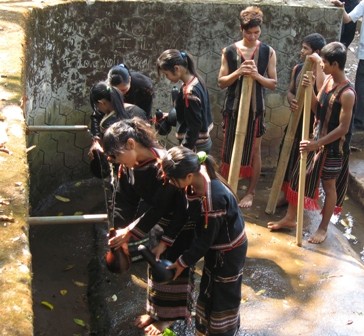 Rural residents queue for taking water in Dak Lac Province.
A meeting was held in Hanoi on November 8, aiming to promote the National Target Program for Rural Clean Water and Environmental Sanitation.
A report by the ministry said that hygiene standard and residents' awareness on the issue had been raised nationwide since the program started.
According to agriculture sector, to date, 83% of resident in rural areas are supplied clean water, however, the proportion is unsustainable.
In addition, 54% of local households had latrines, which meet hygiene standard.
Before the program, rural residents did not concerned themselves with sanitation, threatening public health. However, since the program was launched in the rural areas, sanitation and hygiene has improved.
At the meeting, leaders of the two ministries proposed some measures to improve hygiene and environment such as raising awareness on hygiene among local residents, introducing several models of keeping hygiene and surrounding environment.