A gate of the Thang Long Citadel
A small talk over the proposal for UNESCO recognition was held between Sai Gon Giai Phong Newspaper's reporter and Pham Quang Long, Director of Ha Noi Culture and Information Department.
Reporter: What have Ha Noi's authorities done to prepare the proposal?
Pham Quang Long: We know that completing the proposal, relating to the two heritages to achieve UNESCO recognition for the world heritages, is a meaningful activity for the 1,000th anniversary of Thang Long-Ha Noi. Therefore, there has been proactive guidance from the leadership to overcome all hurdles in the preparation work.
Specifically, the management of the land on which the Thang Long Royal Citadel was built has just been transferred from the Military to Ha Noi's authorities.
All documentation to be submitted to the Vietnamese Ministry of Culture and Information are being speeded up. Assessment of the legality, historical values of the royal citadel is being rapidly conducted.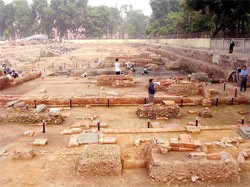 An archaeological site in Thang Long Citadel
Reporter:
How is the job going on?
Pham Quang Long:
Ha Noi determined the value of the Thang Long Royal Citadel very early. The Ha Noi Department of Culture and Information has researched and collected information for a long time.
The department is putting finishing touches on the formality of this ancient architectural work so that it would be handed to the ministry to be ranked as national historical heritage.
Reporter: Ha Noi Ancient City Vestige and Thang Long Royal Citadel are under control of two different authorities. So, how do you go preparing for the proposal?

Pham Quang Long: About the ancient city, a scientific advisory panel has been established to do further research on this area. This vestige, in reality, must be repaired and rearranged before completing the proposal.
Plus, the remaining archaeological site is being excavated and researched. This is the most time-consuming project when a proposal is made. Some parts in the archaeological site must be under careful study so that their overall view and boundary can be accurately defined.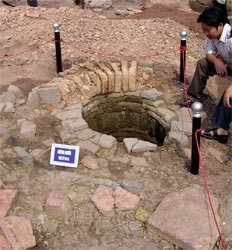 A well was excavated in the Thang Long Citadel
Reporter:
With such large amount of work to be done, how are you managing the time?
Pham Quang Long:
We require highest efforts from all experts and scientists and even from foreign researchers. All methods and measures will be applied to archaeological research.
Essential reports about the project schedule and task assignment have already been well prepared so that the proposal can be completed soon.