During an online meeting with Deputy Prime Minister Nguyen Xuan Phuc on Wednesday, representatives of provinces and cities proposed an increase on the penalty amount on traffic law offenders.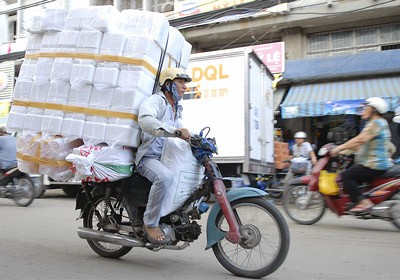 Traffic offenders will receive stricter penalty in future (Photo: SGGP)
According to Dinh La Thang, Minister of Transport, a staggering 1,940 traffic accidents were reported nationwide in the first two months of this year, killing 1,665 people and injuring 1,481.
However, traffic accidents have reduced by 48 per cent over the same period last year. The death toll too has fallen by nearly 20 per cent and the number of injured by 61 per cent.
Some provinces in the country though have recorded more deaths in   traffic accidents, swelling by 69 per cent in Kon Tum Province, 46 per cent in Quang Ngai Province and 17 per cent in Long An Province.
Pham Thanh Ha, deputy chairman of the People's Committee of Kon Tum Province admitted that the province has not conducting properly any propaganda to raise awareness in residents, especially for the ethnic minorities. Besides, punishment on traffic law violators has not been strict enough.
Representatives from Quang Ngai, Tay Ninh and Long An Provinces said that traffic accidents have increased in their localities because the infrastructure is not adequate to meet the surge in the number of   vehicles, and safety awareness in residents is still minimal.
The Ministry of Transport must speed up upgrading National Highway 1A and also complete the Ho Chi Minh Highway as well, so as to ease flow of traffic and minimise accidents, they added.
Deputy PM Phuc agreed with the various proposals and instructed local authorities as well as relevant ministries to take action to implement measures to decrease traffic accidents by 5-10 per cent, which has also been set as this year's target by the National Assembly.
While the Ministry of Health speeds up alcohol-testing on drivers, the Ministry of Industry and Trade should implement measures to crack down on wearing of unsafe and poor quality helmets.