The Overseas Workers' Center (OWC) will hold its second round of Korean-language tests on October 28 for Vietnamese laborers planning to work in South Korea. Sai Gon Giai Phong interviewed OWC director Mr. Phan Van Minh to learn more about the tricks of the trade.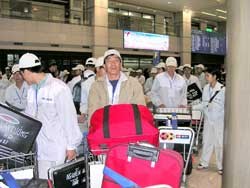 Vietnamese laborers at an airport in the Republic of Korea
SGGP: How many people will be sitting the test?
Mr. Phan Van Minh: This year, Viet Nam is being asked to send 11,000 workers to the Republic of Korea. We will select 8,000 laborers from this second test, including 190 from Ho Chi Minh City because it is so crowded.
SGGP: Why are you limiting the number of workers when the demand is so great?
Mr. Pham Van Minh: The Koreans like Vietnamese workers, but we must consider the needs of Korean companies specifically. Every year, South Korea takes only 10,000 or so skilled Vietnamese workers.
SGGP: It seems they get too little information to prevent their being duped by illegal job centers. Do you agree?
Mr. Pham Van Minh: With so many people wanting to work abroad, it's inevitable that a few have been tricked into paying out a lot of money after hearing unreal promises from unscrupulous individuals and job centers. Usually these people do not have the sort of skills their would-be employers are looking for, and they don't bother to learn the language.
SGGP: What are you doing about this problem?
Mr. Pham Van Minh: The Ministry of Labor, Invalids and Social Affairs has told the Department for Administration of Foreign Employed Labor Force, OWC and local authorities to tell applicants what they need to know and the standards expected of a guest worker beforehand.
These organizations must also run training courses, teach the language and pretest the applicants before sending them to the final exam.
Thanks to this approach, the shysters have been effectively put out of business. Anyone who wants to work in the Republic of Korea can directly contact their local Department of Labor, Invalids and Social Affairs or phone OWC on (04) 734 6093 or (04) 734 6094 to find out more.