Truong Tan Sang, politburo member and permanent member of the Party Central Committee Secretariat, emphasized that people's prosperity must be the main focus of the project to develop new rural areas.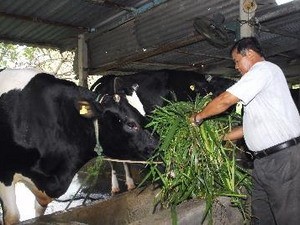 A farmer in Tan Thong Hoi Commune raises milk cows as per the new rural model (Photo: VNA)
He made the statement during his working visit to Tan Thong Hoi Commune in Ho Chi Minh City's Cu Chi District, one of the country's first communes participating in the implementation of a model pilot program for the development of new rural areas to face the 21st century.

Mr. Sang said while developing new rural areas, besides meeting 19 standard criteria set for the development, prosperity of all farmers must remain the key aim.

With prosperity of farmers as its central aim, the project can then be replicated in many more communes nationwide and foresee the Vietnamese farmer in rural areas as prosperous, modern and geared to face the challenges by 2020.

He said it is the need of the hour for which the entire political system must put its strength more actively behind this goal, step by step bridging the gap between urban and rural areas, between cities and localities in the country.

Before working with the Tan Hong Hoi Commune People's Committee, Mr. Sang had visited some farm households in the commune to learn about realities in their livelihoods.

After two years of implementing the pilot program to build a new rural model, Tan Thong Hoi has completed 15 out of 19 criteria, relating to planning, transportation, irrigation, power, housing and poverty reduction. The results in some cases have been satisfactory or have even exceeded set targets.

Four criteria which the commune has yet to meet include schools, cultural facilities, market and income per capita.

According to the Tan Thong Hoi Commune People's Committee, three of the above-mentioned criteria will be fulfilled by the end of this year.

Mr. Sang said the commune's achievements show great endeavor made by the commune's Party committee, administration and people.

Amongst 11 communes participating in the pilot program, Tan Thong Hoi has taken the lead.

This has been solely thanks to the city's party committees and administrations at all levels, who have had a high political determination and frequently monitored the program concurring with the city's people who have actively participated in many fields.

Prime Minister Nguyen Tan Dung has approved the project to develop the country's rural areas by 2015, where every commune nationwide will have a tailored socio-economic framework to follow and by 2020, 50 percent of the communes will meet the national criteria of standard rural communes.

Under the project, the new rural area must boost both culture and agriculture. The Ministry of Agriculture and Rural Development has initiated a pilot project to implement the model in 11 rural communes nationwide.
Key criteria for communes include an infrastructure system, development of production, improvement of livelihoods and culture, environmental protection and the building of a basic political system.
Each commune needs around VND156 billion (US$8 million), of which 7-10 percent of capital has been mobilized from the local community, 20 percent from businesses and co-operatives, 25 percent from production development credit loans and 45-50 per cent from the Official Development Assistance (ODA).
During implementation, many communes have successfully mobilized locals to offer their working days in building infrastructure projects or donating land for building public utilities.
Local people in Tan Thong Hoi Commune have donated their land valued at more than VND29 billion (US$1.5 million).
The 11 communes participating in the pilot program are Thanh Chan Commune in Dien Bien District of Dien Bien Province; Tan Thinh Commune in Lang Giang District of Bac Giang Province; Hai Duong Commune in Hai Hau District of Nam Dinh Province; Thuy Huong Commune in Chuong My District of Ha Noi; Tam Phuoc Commune in Phu Ninh District of Quang Nam Province; Tan Lap Commune in Dong Phu District of Binh Phuoc Province; Gia Pho Commune in Huong Khe District of Ha Tinh Province; Tan Hoi Commune in Duc Trong District of Lan Dong Province; Tan Hoi Thong Commune in HCMC's Cu Chi District; My Long Nam Commune in Cau Ngang District of Tra Vinh Province and Dinh Hoa Commune in Go Quao District of Kien Giang Province.