The Road Safety Goodwill Ambassador and leading Hollywood actress Michelle Yeoh Choo-Kheng paid her second visit to Viet Nam to continue promoting her mission. Yeoh and two other dignitaries - Peter Lysholt Hansen, the Danish Ambassador to Viet Nam and Greig Craft, President of Asia Jury Prevention Foundation, spoke to SGGP.
Mr. Peter Lysholt Hansen, the Danish Ambassador to Vietnam (Photo: Truong Son)

Q: Mr. Peter Lysholt, Denmark has donated US$500,000 for the road safety campaign. What is the major motivation for this support?

Lysholt: First of all, I believe that all the people out there believe that children are the most important thing in our lives. I have a five-year-old child and he always accompanies my wife on the motorbike. After we discussed it many times, my wife and I agreed that it is very necessary to make him wear a helmet. And I wonder why we always promise we will do the best thing for our children and protect them, but why we do not think of letting the helmet protect our children's heads. It's the best way to keep them alive. That's why my country and I want to donate to the campaign to protect our children.
And in my opinion, we need much help from leaders of the government to inform and call out to people and let children wear helmets. That will make our campaign more successful.
Q: Mr. Greig Craft, you have campaigned for children in primary schools to wear helmets, but now, secondary school students chose transportation means that do not require wearing helmets, including electric bicycles and 50cc motorcycles. Do you have any recommendations?

Craft: I want to emphasize that there is no difference when riding 100cc motorcycles, electric bikes or 50cc motorcycles. Instead of comparing the speed, we need to focus on the dead drop point. No matter what kind of bike, they usually have a dead drop point of 0.5 meter in height. And riders falling from this dead drop point always suffer serious pain.
Q: You have mentioned earlier that you would cooperate with Vietnamese officials to come up with international quality standards for our helmets in November. So how's it going?

Craft: Well, currently we cannot say anything. But we suggested that the government specify different standards for adult's and children's helmets. Currently we have a single standard in use since 2000.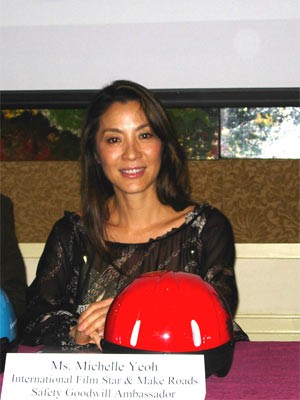 Ms. Michelle Yeoh Choo-Kheng is so excited with the second trip to Vietnam to promote the campaign (Photo: Truong Son)

Q: Ms. Yeoh, this is the second time you are visiting Vietnam and the first time you visit Ho Chi Minh City. So what are your impressions now?


Ms. Michelle: This is not my first time visiting this city. I've already come here before as a normal tourist. And what I felt at that time and this time are the same. I'm always scared of your traffic system. Even sitting in a car, regardless of watching through the left or right side windows, I always see the street crowded with car and motorbikes.
However, this morning I had a really good time with 1,500 children from Nguyen Thai Hoc Primary School in the opening activity for the campaign. They all wear helmets and I think they are so beautiful in them. Obviously, to me, the idea that wearing helmets is not cool or even ugly, is stupid.
Q: A question about your career, Ms. Yeoh. You are famous for excellent action moves. So what business will you do when you are done with the entertainment industry?

Yeoh: (Laughs) Oh, I do not think of retirement now. I'm not one who thinks about the future. I only care about the present and how I live now. It is more important to use your time in some matters of the present instead of wasting it on worrying about the future. That's why I chose to engage in some volunteering activities, such as road safety and cancer.