Only six years after construction, the concrete walls and steel fencing on both sides of the railway line through Ho Chi Minh City are severely damaged, especially the section through Phu Nhuan District.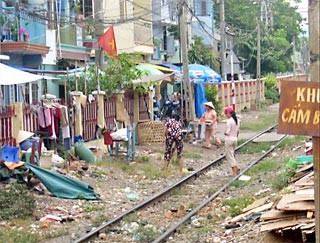 A local resident walks across the track
The purpose of the barrier, which costs VND9 billion to build, is to prevent people wandering onto the track and being run over by a powerful locomotive.

In Phu Nhuan, the steel spike fencing has proven irresistible to poor people desperate for money, and large sections have been cut off, carted away and sold for scrap, leaving gaping holes behind.

Without access to the line no longer physically restricted, people have naturally taken to crossing the tracks directly rather than taking a roundabout route to get to the other side.

Mr. Nguyen The Quang, deputy director of the Saigon Railway Management Company, points out that the easy access has resulted in people dumping garbage, unwanted furniture and such next to the tracks, limiting train drivers' visibility and increasing the risk of a collision and even derailment.

The company's director, Mr. Nguyen Xuan Hoa, adds that trains have to slow down when they pass through Phu Nhuan for safety reasons.

Needless to say, the railway fence through Phu Nhuan should be repaired as soon as possible to protect unwary residents and keep them out of harm's reach.

At the same time, the local authorities should start fining trespassers and garbage dumpers, and particularly people who steal parts of the fence.