Vietnam could be a major source of computer programmers within ten years thanks to its dynamic youth and the aversion that young people in industrialized nations have for this kind of work.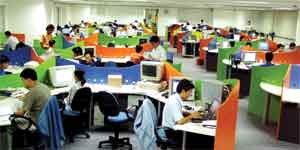 Vietnamese software writers work in FPT Corporation
It's a near certainty that the world will be very short of programmers by 2015, so Vietnam could be poised to step into the breach and plug the gap, much like what China and India are doing now.
The level of professionalism is already rising here as more Vietnamese software companies spring into existence, more software parks are built, and more local software firms team up with and learn from the biggest names in the industry.
Thanks to these efforts, Vietnamese software writers have improved their game to the extent that many now work for foreign companies.