The Phong Nha – Ke Bang Center for Scientific Research and Rescue, Bo Trach District, Quang Binh Province, released nine endangered sea turtles back into the sea on Friday.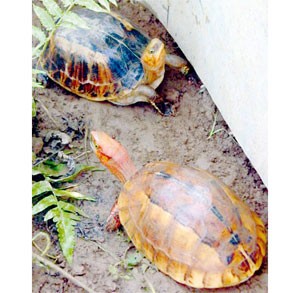 Flowerback Box Turtle (top) (Photo: SGGP)
Among them were eight Jagged Shells (Pyxidea mouhotii) and one Flowerback Box turtle (Cuora galbinifrons bourreti). Both kinds of turtles appear on the list in Vietnam's Red Book.

The turtles were seized by the Environmental Police when they were illegally traded on the market in Minh Hoa District, Quang Binh Province.

On the same day, the center also transferred 25 Stripe Neck Leaf turtles (Geoemydas tcheponensis) to the Turtle Conservation Center at Cuc Phuong National Park.

Such turtles originally come from Cambodia and Laos. They were also found by the Environmental Police in Minh Hoa District.