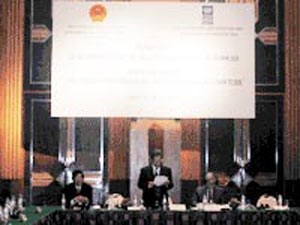 International participants give their comments at the conference.
Integration into the world economy demands Viet Nam's strong commitment to public administration reform to meet the requirements of a highly competitive economy, said international experts at a meeting to discuss Viet Nam's public administration reform on Friday.
Addressing the conference, Acting United Nations Development Program (UNDP) Resident Representative Subinay Nandy said, "There is an increasing demand for public administration reform as Vietnam's growing economy and its integration process into regional and international markets have been rapidly taking place. Public administration reform is prerequisite for the country to fully maximize the benefits of global integration."
Senior Vietnamese economic advisor Pham Chi Lan stressed that the governmental administration system must be rapidly and synchronously reformed to harmonize with, and serve Viet Nam's market economy.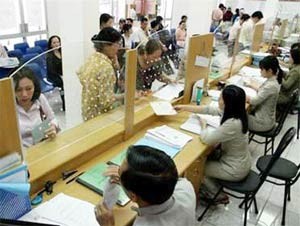 Necessary reforms will help facilitate administrative work like that of a notary public's office in Binh Thanh District. (Photo:TK)
One of the vital roles of public administration reform is removing barriers to business development in order to improve national competitiveness, she added.
The international conference, which was jointly held in Ha Noi by the Vietnamese Ministry of Home Affairs and UNDP, drew the participation of many representatives from 15 central ministries, agencies and seven provinces.
The attendees discussed key issues with experts from Thailand, Singapore, South Korea and New Zealand at the two-day international workshop entitled "Public Administration Reform in Viet Nam: Priorities for 2006-2010 and a vision to 2020."
Recommendations and comments from the workshop will be taken into consideration by the Government when it reviews a project on the same subject at the 4th Conference of the Central Party Committee in December.