A Foreign Ministry spokesperson on October 27 condemned the brutal arrest of a Vietnamese student named Ho Phuong by police in San Jose, calling it an abuse of power and unacceptable.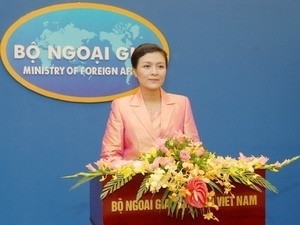 Ms. Nguyen Phuong Nga
Ms. Nguyen Phuong Nga called for due punishment for those officers in question after emphasising that the Vietnamese public is strongly outraged after hearing the news.
"The Foreign Ministry has instructed the Vietnamese General Consulate in San Francisco to verify the news and take necessary consular measures to protect Vietnamese citizen Ho Phuong," concluded the spokeswoman.
She made the statement in reply to correspondents' questions about press information on the case.