The public prosecutor at an appeal court in Ho Chi Minh City Tuesday petitioned a reduction of the life sentence of Huynh Ngoc Si, former deputy director of the city Department of Transport and Public Works.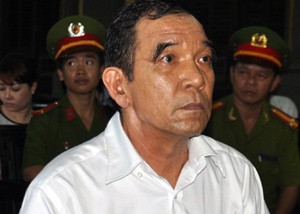 Huynh Ngoc Si at the appeal court in Ho Chi Minh City August 30, 2011 (Photo: VNExpress)
Si, 58, former director of the East-West Highway and City Water Environment Improvement project, got a life sentence for taking bribes at a court also in the city in October last year.
He was charged with taking US$262,000 from the Japan-based company Pacific Consultant International in order to do things in favor of PCI.
During the appeal court Tuesday, he said he was not guilty, did not receive $262,000 from PCI executives, and did not do anything in favor of PCI.
However, the public prosecutor said proof provided by the Japanese side and Vietnamese police proved that he had taken $262,000 as bribes. Nevertheless, the attorney appealed the court to grant a remission – 20 years in jail instead of his life sentence.
The public prosecutor explained that were gaps in Vietnam's administration and management, together with the act of giving bribes by PCI executives, made him guilty.
The appeal court continues on Wednesday.