At a regular press meeting on May 27, the Minister of Information and Telecommunication Nguyen Bac Son, said that the media has every right to inform the public of a luxury villa being built in Hai Duong Province.
However, the media needs to be cautious of the way it mentions the issue, as it is a delicate matter, and should avoid any negative consequences that affect the public, the minister added.
Recently, several newspapers have published articles about a 5,000sq.m garden villa worth millions of US dollars belonging to the Party Secretary of the northern province of Hai Duong.
The newspapers have posted articles along with photographs of the under-construction garden villa, being built in the midst of a large rock garden and surrounded by expensive bonsais and ornamental trees in Ninh Thanh Commune of Ninh Giang District of the northern province of Hai Duong.
This palatial building supposedly belongs to Bui Thanh Quyen, the Party Chief of Hai Duong and a member of the Central Party Committee and National Assembly.
The entire building is being developed over 5,000sq.metres and looks like a luxury resort villa. When press correspondents visited the site, they described it as a 'great construction site, with many kinds of construction machines present there'.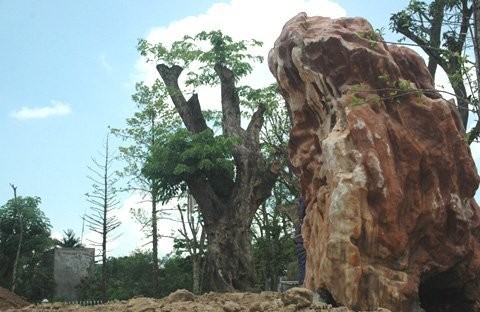 The luxury villa is surrounded by a big rock garden and rare ornamental trees (Photo: VNNet)
According to news reporters, they gathered information on this expensive construction from local residents, who claimed that the building was being developed illegally, on prime agricultural land.
Building workers told reporters that this 'luxury garden villa' consisted of three storeys, including a basement. One floor was to be made of rare wood. The villa is surrounded by a huge rock garden and rare trees. The cost of the rare wood, rocks for the garden and rare bonsai plants will be phenomenal.
Bonsai trees in the garden are said to be very expensive because they are ancient rare trees, including several Sua trees, which are extremely rare and banned from trading and transporting in Vietnam, being many hundred years old. Experts say that the price of these trees is from hundreds of millions to several billion dongs each.
Referring to the question whether the house is being built on legal land and not on agricultural land, an official working in Ninh Giang District, where the villa is being built, told reporters that the villa is owned by Bui Thanh Tung, son of secretary Quyen.
In 2011, the People's Committee of Ninh Giang issued the land rights to Bui Thanh Tung, and accordingly the area that Tung owns is exactly 4,152 square metres and does not fall under agricultural land, hence the construction is legal.
Tung has denied that the building is worth hundreds of billions of dong and that there are no Sua trees in his garden. The trees that look like Sua trees are actually 'Huong Vuon' trees.
He said that the money he invested on the property had been earned by him. Tung is at present an official in the Department of Labour, War Invalids and Social Affairs in Hai Duong Province. However, the public has questioned the income of a local official like Tung and how he can afford such a big and luxurious property.
Nonetheless, anyone would be shocked by the value of this asset. Many local residents said that it does not matter that the villa belongs to Quyen or his son; but they do not understand how a young man like Tung managed to earn so much money to build such a giant construction.