Lt. Gen. Bui Van Thanh, Deputy Minister of Public Security yesterday visited the Kwong Lung – Meko to check the company where the fierce flam happened.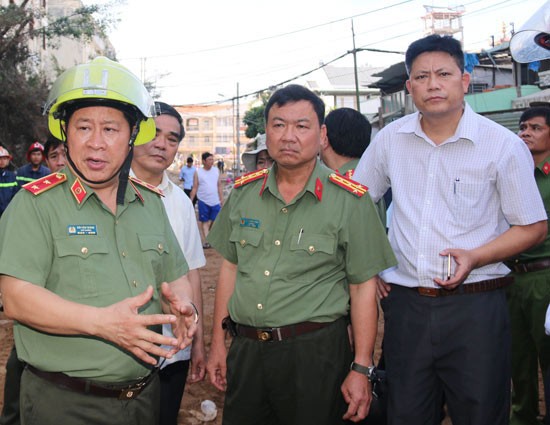 Lt.Gen Bui Van Thanh (L) visits the fire scene (Photo : SGGP)
In addition to paying visit to the company in the Tra Noc Industrial Park in the Mekong delta City of Can Tho, the Lieutenant General liaised with leaders of 19 firefighting stations in Can Tho on the fire incident.

He asked police officers and firefighters to work around the clock at the company to watch out for the re-ignition of the flame. 
Police in Can Tho City must work with their counterparts from the related departments such as Firefighting, the Institute of criminal Science to probe the fire cause.

Firefighting in Can Tho City must coordinate with the Department of Construction and the Water Supply Company to check water source for firefighting work.

The flame erupted on March 23 and it re-ignited many times later. It has been the biggest fire incident in Can Tho City so far with the participation of 370 firefighters and 56 vehicles.

Related article:
HCMC helps Can Tho battle fire
Damage in Can Tho city fire estimated to worth $13 mil