Vietnam's severe lack of public housing can be attributed to poor government policies and regulations, experts have said. Many of the country's poor cannot afford even basic accommodation, with some calling for a revamping of the entire social housing system.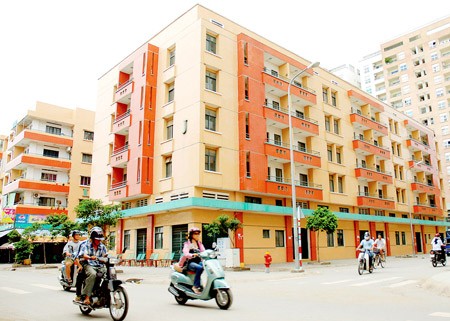 Getting low cost houses is a dream of the poor. (Photo: Cao Thang)
Mr. Nguyen Trong Ninh, deputy head of the Ministry of Construction's House and Real Estate Market Management Department, said most developed countries provide public housing through government subsidies.
A government may invest in the construction of social housing projects and then let the beneficiaries rent or buy units at affordable prices. Alternatively, the government may exempt certain taxes and policies to make investing in public housing more attractive to private businesses undertaking the construction of such projects.
Strict regulations are needed, however, to achieve the aims of private investment without allowing enterprises to engage in unscrupulous practices.
Mr. Nguyen Van Duc, vice-director of the Dat Lanh real estate company, said that public housing has not kept pace in Vietnam because the government has not prioritized the issue. Moreover, the current policies do little to stimulate growth in this sector, he said.
It has been three years since the country's Housing Law came into effect, yet Mr. Duc pointed out that few projects have been completed as initially outlined. Land clearance is one of the biggest stopping blocks, he added.
According to Mr. Duc, the government should be responsible for funding 80-90 percent of the country's social housing, leaving private businesses to take on the rest. If the problem is not addressed in the next three years, Vietnam could face a public housing crisis, he said.
Leaders at all levels must be held responsible if low-income citizens cannot afford accommodation, Mr. Duc added.
Web of ineffective formalities hurts all
The Housing Law also stipulates that commercial projects built on more than 10 hectares of land (such as export processing zones) must allocate at least 20 percent of the area to social housing for workers.
However, some enterprises have avoided this stipulation by simply applying for a project license on slightly less than 10 hectares.

Nguyen Phung Thieu, general director of the Sai Gon-Gia Dinh real estate stock company recommended, therefore, that the government should be primarily responsible for investing in social housing.
Mr. Nguyen Phung Thieu, an investor of a low-cost housing project in HCMC, said that removing barriers to investment in social housing is critically important. In his opinion, administrative formalities have been the biggest obstacle in preventing the growth of affordable accommodation.
A low-cost housing project of the Dat Lanh company in District 12, for instance, was held up for more than three years due to complicated legal formalities. When investment costs skyrocketed, Mr. Duc said he had to deal with no less than eight separate agencies to handle the issue.
Dealing with the convoluted procedures ultimately ended up in a decrease in the number of available housing units for tenants while rental prices increased.
The location of public housing has also been debated.
According to Mr. Duc of the Dat Lanh real estate company, social housing should not be located in urban centers, but instead in city outskirts in 10-100 ha residential blocks. Offering different-sized units to accommodate renters' needs should also be considered, said Mr. Duc.
Engineer Phan Phung Sanh, vice-chairman of the HCMC Association of Construction Science and Technology, agreed that public housing should be located away from urban centers, but should have sufficient infrastructure and easily accessible transport into the city.
Deterred by long wait for low returns
A major overhaul of the public housing investment system is needed, said Mr. Duc.
Mr. Tran Van Thanh, general director of the Vietnam Housing Stock Company, said it currently takes businesses up to two decades to recover their initial investment costs in a public housing project. And because of the low rent charged to tenants, investors stand to gain little in financial returns.
Delivering a speech at a symposium on developing social housing, lawyer Truong Thi Hoa said companies should consider a 10 percent profit margin good for a low-cost housing project. The length of time it takes to see a return needed to be addressed, Hoa added.
According to Mr. Nguyen Phung Thieu, enterprises should mobilize investment capital through public property auctions and the government should step in to provide financial assistance when necessary.
Only when such policies are improved and streamlined will the country's public housing sector see real growth.
Related Article: