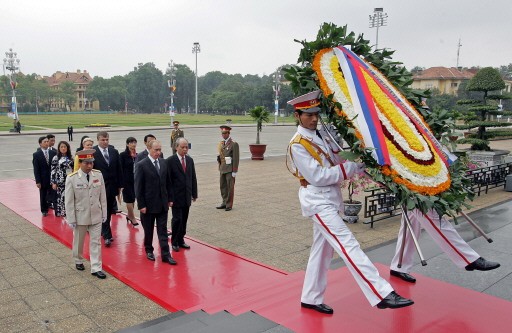 Russian President Vladimir Putin (C) attends a wreath-laying ceremony during a visit to the Ho Chi Minh Mausoleum in Hanoi, Nov. 20, 2006.
Russia is ready to invest billions of dollars in the Vietnamese economy, Russia's news agency Itar Tass quoted President Vladimir Putin as saying in Viet Nam on Monday.
"If (Russo-Vietnamese cooperation) projects are implemented then billions of dollars will be invested in Vietnam's economy," Itar Tass quoted the Russian President at a press conference after talks with his Vietnamese counterpart Nguyen Minh Triet in the morning.
President Putin, who attended the 14th APEC Economic Leaders Meeting in Ha Noi on Saturday and Sunday, started his official two-day visit to Viet Nam on Monday.
The talks between him and the Vietnamese President focused on discussing cooperation in energy, oil, tourism, education, science and technology.
In the afternoon, he was due to pay visits to Viet Nam's Party General Secretary Nong Duc Manh, National Assembly Chairman Nguyen Phu Trong and Prime Minister Nguyen Tan Dung. In the evening, he is set to attend a banquet hosted by President Triet.
President Putin on Sunday inaugurated the first Russia-Viet Nam bank in Ha Noi. The freshly-opened Viet Nam-Russia Bank (VRB) is a joint venture between the Viet Nam's Bank for Investment and Development and the Russian bank VTB. It is the only joint venture bank granted a license in Viet Nam in the past 10 years.
Mr. Putin described the bank's establishment as a positive event to boost commercial activities between the two countries. He expressed his hope that VRB would rapidly expand its capital and scale and operate effectively, winning customer confidence.
At the opening ceremony, Vietnamese President Triet said the two countries' bilateral trade was large in the past but limited by a lack of suitable payment methods. He said that the new bank would help raise the two countries' trade ties to a new height.