PetroVietnam Gas has received the government's approval to construct a port with storehouse for gas import in the south central province of Binh Thuan.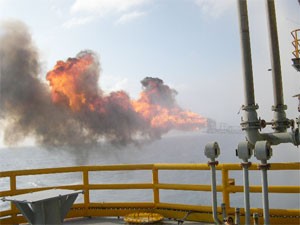 A drilling rig in operation in Vung Tau. PetroVietnam Gas is going to build a store for import gas as local sources have yet to meet the demand (Photo: Phan Hien)
Do Khang Ninh, general director of the company which is known briefly as PV Gas, said main sectors of the project include a port, a store and a recycling area.
The company by the end of this year will finish setting up the plan, which will then be submitted to concerned agencies for approval, Ninh said, adding that the project is expected to be carry out within next year.
He said the project, with estimated investment of more than US$1 billion, will be able to import around two to three million tons of gas every year.
According to the director, Vietnam's current gas demand is nearly 10 billion cubic meters every year while domestic sources can only supply around 8.5 billion cubic meters.
During proceeding the project, PV Gas will make negotiations to import gas from Qatar and Australia, Ninh said.
In related news, Vietnam and Russian petroleum joint venture Vietsovpetro has finished the construction of two gas rigs and one of them has been ready to be launched to the sea, according to a source from the company.
The oil rigs are expected to develop 6.31 million tons of gas this year and 6.14 million tons in 2012, as the company has planned earlier.
Vietsovpetro will continue more drilling to increase the company's oil and gas output in the coming time.