The People's Committee in Bac Tra My District said that a quake lasting for about four seconds accompanied with an explosion occurred on Tuesday morning.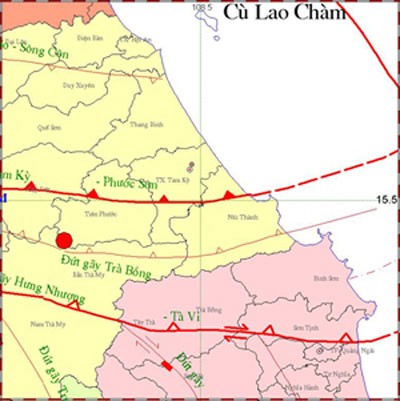 Chart shows epicenter of the quake in Bac Tra My District in Quang Nam Province (Photo: Earthquake Information and Tsunami Warning Center)
According to local residents, quakes have been occurring everyday for the last few days but of low intensity. However, the one on Tuesday was strong and of higher intensity.
The Institute of Geophysics said that the earthquake was recorded 3.5 on the Richter scale at 40 seconds after 9.29am on Tuesday. The quake epicenter was eight kilometers below ground level in Bac Tra My District.
The quake also caused tremors of level 5 on the MSK-64 scale in the Song Tranh 2 Hydropower Plant area.